With confidence, we deliver not only the do-able, not only the conceivable, but also the previously unthinkable...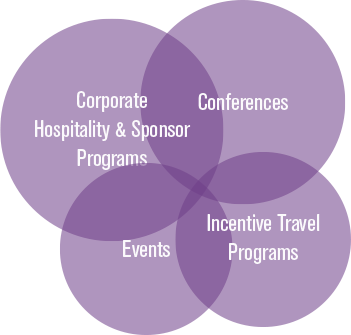 bespoke event

solutions

We offer bespoke event solutions in the area of conference management, corporate hospitality programs and fulfilment of travel related incentive programs for key stakeholder engagement and channel partners.

Through strategic planning and creative execution, our dedicated project teams design and manage unique and life altering experiences for the corporate sector. From 15 senior executives to 3000 gregarious guests, from Sydney to Siberia, we can give you and your stakeholders an experience to remember.
It's all about


relationships...

...your relationships with your staff, with your suppliers, with your channel partners and with your customers. It's not just about the product you supply – it's about the relationships you have with key players.

At Incognito Events, our business is to support you in building, retaining and optimising those relationships.

Our team has decades of Sales and Marketing experience at the coalface of the Corporate sector. Add to that over 20 years of managing and escorting conference and incentive programs throughout Australia, South-East Asia, Europe and North America and our credentials speak for themselves.

What does this mean for you? Let Incognito Events work with you to provide inspirational, aspirational, progressive and engaging solutions to achieve your strategic business goals.

With a combination of creative passion and common sense, Incognito Events brings a personal touch to every program we manage.
"I must say it was the best event we have staged by a country mile. I don't need to tell you how much everybody loved it."
"You have demonstrated that excellence is, in fact, possible in a country where we unfortunately do not practice what we preach."
"A great success and you were so easy to work with! It took the event to a whole new level of professionalism."
"I just wanted to say thank you once more. Working with you has been a true delight."
"Outstanding. I've heard nothing but great things from the night and it is truly appreciated. You did a fantastic job."
"A perfectly executed event. Incognito Events were the heroes of hospitality and you provided our VIP guests with an amazing and seamless service and experience."
"Thank you so much – it was a stunning experience and perfect in every sense. Looking forward to the next one…"
Incognito Events


Tim Coughlan


Director

PO Box 745
Potts Point NSW 1335
Australia

+61 (0)409 990 333

tim@incognitoevents.com

Created by AMBA